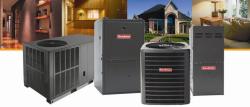 When you need specialized air conditioning service for your home, call Universal Appliance Service. Providing local residents with full-service air conditioner repair, we're committed to helping you maintain your home's coolness and comfort at all times. Our air conditioning contractors specialize in central air systems, so we'll be able to repair any element of your duct system or clean any filters that you have with absolutely zero hassle. When you're facing warm weather without a fully functional central air system, your indoor climate can quickly become very uncomfortable. Don't let your household suffer from oppressive humidity or unbearable heat—instead, call Universal Appliance Service and let our air conditioning contractor team provide you with the spectacular results you need. We're available by phone or e-mail, so act now! 
At Universal Appliance Service, our air conditioning repair contractors have over 25 years of experience in the trade. We know all the ins and outs of air conditioner repair, and our services cater specifically to central air units. While we don't offer air conditioning service for wall or window A/C units—given that the cost of repair is generally equal to the cost of replacing the unit in full—we are more than equipped to handle the complex demands of central air conditioning in residential settings.
Call Universal Appliance Service for central air conditioner repair if your unit is exhibiting abnormal behavior, such as:
Not turning on
Producing unusual noises
Not generating enough cool air 
Emitting weak airflow
Turning on and off in short cycles
Not dehumidifying the air
And more
There are a number of problems that could be wrong with your central air system, but the source will be nearly impossible to identify for the untrained eye. That's why you need to call the air conditioning contractor team at Universal Appliance Service for expert diagnostics and a knowledgeable skill set. We know our way around all variations of central air systems, and we'll be able to fix yours in no time. Some of the possible approaches that our central air conditioning contractors can take include:
Cleaning air filters
Finding and removing blockages from ductwork, vents, and coils
Repairing or replacing broken fans
Finding and stopping refrigerant leaks
Replacing lost refrigerant
Adjusting evaporator coil position
Adjusting motors
Repairing or replacing broken compressors
Checking electrical controls for defects
If you're ready to get the cool, dehumidified air you need for your home in order to remain comfortable at all times, then you need to call Universal Appliance Service for the central air conditioning service you need. Our air conditioning contractor team is fully licensed, bonded, and insured, and we'll be able to get you the unbeatable results you deserve. And if you're in the midst of an unbearable heat wave when your unit breaks down, don't fret: we offer same-day service so we can provide you with air conditioner repair as soon as we identify the problem. Call or e-mail us today to schedule an appointment!